Face Complex Care for Skin Prone to Pigmentation
Yes to Even Complexion, No to Pigmentation. 

Your skin is prone to pigmentation, and so you seek to avoid sun's rays?

That's the right thing to do, but that's not enough. You need special care.

Pigmentation is not your simple freckles that make some women look even prettier;
for many women, they present a real problem.
The skin that is prone to pigmentation needs reliable protection.

The Face Complex Care for Skin Prone to Pigmentation combines two excellent products
that will help to remove the freckles you do not want in your life.

Step 1:
An elixir mask with the extract of liquorice root and prickly pear:
- helps achieve even complexion;
- effectively controls pigmentation and improves skin texture.

Step 2:
Wholesome cream, which:
- strengthens the action of the mask and deeply moisturizes your skin;
- helps stimulate skin regeneration thanks to natural acids in the formula.

The cream has luscious melting texture, gets easily absorbed and does not make your face feel heavy.

Use it regularly to achieve even skin tone, ideal moisture levels, beautiful complexion and turgor,
and watch your small wrinkles disappear.

This formula can be used not only to treat the skin prone to pigmentation but to improve your face skin colour.
Protect your skin against ultraviolet radiation and do not forget that sun rays can burn all year round!


APPLICATION:
Step 1:
Wash your face and apply the elixir mask for 15-20 minutes, then remove the mask and rinse your face with water.

Step 2:
apply the wholesome cream immediately after using your elixir mask, or within 10 to 12 hours after its application. The product can be used as night cream.

Use the complex care solution once or twice a week.
Use the package contents immediately after opening.



ACTIVE COMPONENTS
Allantoin
Allantoin softens and moisturizes the mucosa and prevents irritation. It heals sore mucosa and other mucosal damages.
Collagen
Collagen improves skin elasticity, facilitates the smoothing out of wrinkles, makes it soft and smooth, maintains optimum moisture level.
Liquorice
Glycyrrhiza glabra root extract slows down aging processes, prevents hyperpigmentation, softens, reduces roughness and unevenness.
AHA (Alpha hydroxy acids)
Malic acid is one of the most popular AHA. Gently sloughs off cornified skin cells, stimulates skin regeneration.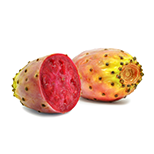 Prickly Pear
The prickly pear has been called the "natural botox." This plant renders a lifting effect, moisturizes, nourishes and regenerates your skin, smooths out wrinkles. It acts as a natural sunscreen, removes puffiness and dark circles around your eyes.
Customers who bought this product also bought: